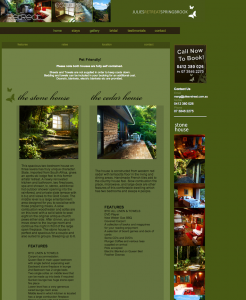 Julies Retreat needed a website to showcase their beautiful and truly unique retreat/honeymoon destination.
The solution was a traditional HTML website featuring a unique layout and a heaps of images to show how special the location is (the idea was to stand out from the numerous other accommodation spots on the mountain that all seemed to have the same 'feel' about their branding).
Content is updated regularly via traditional methods so that the website can continue to stand out and avoiding traditional cookie-cutter page layout.
You can visit the site at http://www.juliesretreat.com.au