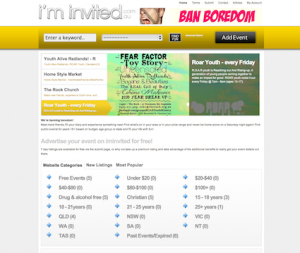 Another example of a truly unique and client focussed website solution.
This is a highly complex content managed website that functions as an event directory.
Visitors to the site can create their own account, search listings via multiple search criteria, browse content, and also purchase or create free listing packages.
The model is similar to any classifieds site you might visit, whether to search or sell a new car or to buy a product – however the layout and function has been customised to reflect the feel and purpose for the site – a fun new site focused at young people.
Administrators have complete control over the listings and content on the website – including news articles, pages, listing packages and prices and much more!
To visit the site go to http://www.iminvited.com.au/